CAYMAN ISLANDS. You might know the Cayman Islands from a famous movie line, like The Firm – starring Gene Hackman and Tom Cruise. Yes, this is probably THE off-shore banking haven outside the USA. Maybe the fact that they have more registered businesses than people (population is around 60k) has something to do with so many banks – one on nearly every street corner – here. In fact, it's all linked – the government's primary source of income is indirect taxation: there is no income tax, capital gains tax or corporation tax. Henceforth, based on income, Caymanians enjoy the highest standard of living in the Caribbean and every second person you meet is a banker or finance expert of some sort.

Pic of Grand Cayman from Royalcaribbean.com
Most people find themselves in George Town – on the biggest island – when they visit Grand Cayman. The other ones are called Cayman Brac and Little Cayman, but very few people live there. Maybe you dream of living on a tropical island for a while?
So what is it like to live in Grand Cayman?, you ask. Some locals complain that there's little to do, but we beg to differ. First off, this island was frequented by many pirates, including the famous Captain Blackbeard. If you don't believe us, you can go scuba diving in the swimming pool-clear water of the ocean and visit many ship wrecks from this bygone era, amongst others. You can see what the ships looked like in those days and maybe even endeavor to find treasure down there, although that'll be your own little fantasy trip, nothing we suggested… While you're at it, you may see amazing sea turtles and stingrays in these deeps. In fact, there are some specific locations on the island where you can swim with stingrays.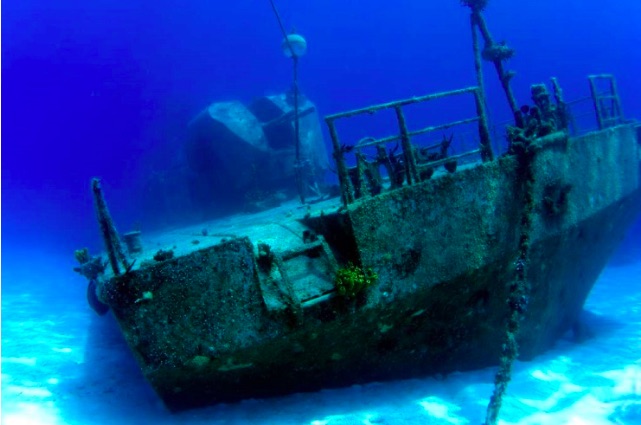 Shipwreck in Grand Cayman waters from Caribbean360.com
This is not all. The beach is 7 miles long in Grand Cayman – or so the name of the beach says, but we have heard its longer! White, sandy and undulating into clear azure waters, which we already swooned enough about above. Whatever you want to do on this beach can be done – watersports, swimming, splish-splashing, drifting in the water with a cocktail in your hand, rolling in the sand like a kid, sunbathing with your toes in the water – you get it. Considering the big island is 22 miles long and 4 to 8 miles wide, all at pretty much sea level, makes us think you can run around the island and that would mean you completed (nearly) a marathon. If you're into that kind of thing or about to complain that there's nothing to do on the island, that is.
Next, you can go to Hell. No, not being rude. There really is a place called Hell. It's a sight to see – black volcanic, sharp rocks are the only landscape here. Quite different to the rest of the environment. What's more, there is a little post office right in Hell where you can buy a "postcard from Hell" to send to loved ones to alarm them unnecessarily and cause your grandfather to preach about the evils of travel to foreign countries… But that's thát story.
Of course, there are great restaurants and shopping on the island, even Jimmy Buffet's Margaritaville franchise boasts a prominent spot if you want to get your or any Parrot Head doused in some rum.
Not only does this place have a Hell, it also has crocodiles. Ever heard of crocodiles found naturally in the Caribbean? Well, hear again. That is where the island gets its name from – Caimans are a specific kind from here. Wait, they have indigenous reptiles – curly tailed lizard iguanas – but also crocs and sea turtles on and around the island!? Cowabunga!
As is known, hurricane season comes every year to the Caribbean. Last year's monster season didn't affect the Caymans much – for a change! Unfortunately these islands have the highest record of being hit by hurricanes of all Caribbean islands. In 2004, hurricane Ivan nearly tore the main island into two with severe flooding. Amazingly the locals rebuilt it within about two years. What a nation!
Talk about nation, did you know that Jamaica and Grand Cayman were once considered one? Cayman and Jamaica were governed as a single British colony until 1962, when the Cayman islands became designated a British overseas territory, one of 14 territories under the sovereignty of the UK but not part of the UK, while Jamaica became independent.
As you can gather, this is a Hell of a place. It's only 400 miles south of Miami, or apparently known as "South Miami" by expats, so you can swim there, ha! Pack your bags and get there before someone else occupies your perfect spot.
---
Grand Cayman Advertisements: