Jamaica

is an independent Commonwealth island country in the Caribbean Sea.

Jamaica is the third-largest island of the Greater Antilles located in the Caribbean Sea.

Jamaica is located south of Cuba and west of Haiti. View Map.

Jamaica is famous for being the birthplace of reggae, Bob Marley, laid-back attitude, all-inclusive resorts, beautiful beaches, mountains, reefs and waterfalls.
Top 10 Things
Random Order
1.
Negril Beach (Seven Mile Beach)
2.
Doctor's Cave Beach, Montego Bay
3.
Rose Hall Great House, Montego Bay
4.
The Bob Marley Museum, Kingston
5.
Blue Mountains (Waterfalls) and John Crow Mountains National Park
6.
Rafting the Rio Grande River
7.
Black River Safari Boat Tour and YS Falls
8.
Dunn's River Falls
9.
Rainforest Bobsled Jamaica at Mystic Mountain, Ocho Rios
10.
Surf at Boston Bay Beach

Jamaica also has great kitesurfing/kiteboarding locations. Lessons and sessions are offered by
Kitesurf Jamaica
(Brian's Kitesurfing).
Enjoy your stay!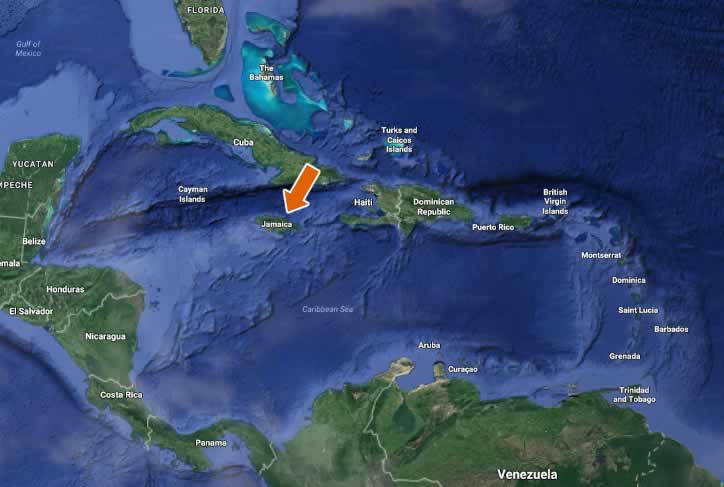 If you own or manage a business in the
Caribbean
and need
professional assistance with your website
and social media,
gandor.tv
will create, maintain, host and promote your website for you.
National Anthem
"Jamaica, Land We Love"

Photo Feature Forecast
Jamaica

Nationality
Jamaican
Size
4,244 sq miles (10,991 sq km)
Population
2,909,714 (July 2013 est.)
Geography
Jamaica's coordinates are: 18.1824deg N, 77.3218deg W. Jamaica is an island in the West Indies, 90 mi (145 km) south of Cuba and 100 mi (161 km) west of Haiti. It is a little smaller than Connecticut. The island is made up of coastal lowlands, a limestone plateau, and the Blue Mountains, a group of volcanic hills, in the east.
Currency
Jamaican Dollar
Government
Constitutional monarchy, Democracy, Parliamentary system
Drives on the
Left
Calling Code
From the US: Dial 1 (876). From the UK: Dial 001 (876).
Capital
Kingston
Time Zone
UTC - 5h
Points of Interest
Dunn's River Falls, Blue Mountains, Bob Marley Museum, James Bond Beach, Montego Bay Marine Park, The Enchanted Gardens, Ocho Rios Beach, Green Grotto Caves, National Heroes Park, Royal Palm Reserve
Animals
Amphibians: There are 25 species of frogs and toads. Reptiles: There are a total of 31 species of reptiles living on Jamaica. This includes turtles, snakes, lizards, and even crocodiles! Birds: There are a total of 324 species of birds on the island. 28 of these species are endemic, which means that they live only on the island of Jamaica. Mammals: There are 35 species of mammals living on Jamaica. This includes 11 species of marine mammals.
Food
Popular Jamaican dishes include curry goat, fried dumplings, ackee and saltfish (cod) - the national dish of Jamaica - fried plantain, "jerk", steamed cabbage and "rice and peas" (pigeon peas or kidney beans).
Plants
Over three thousand species of plants grow on the island, and 27% of them are found nowhere else on earth! More than 200 species of flowering plants have been classified. Over 230 species of Orchids, 60 of which are endemic. Over 580 types of ferns, 64 of which are endemic. The spectacular Blue Mountain provides perfect conditions for the cultivation of the world's finest coffee (Blue Mountain Coffee).
National Flower
Lignum Vitae
National Bird
The Doctor Bird
National Tree
The Blue Mahoe
Brief History
Jamaica was inhabited by Arawak Indians when Columbus explored it in 1494 and named it St. Lago. It remained under Spanish rule until 1655, when it became a British possession. Buccaneers operated from Port Royal, also the capital, until it fell into the sea in an earthquake in 1692. Disease decimated the Arawaks, so slaves were imported to work on the sugar plantations. During the 17th and 18th centuries the British were consistently harassed by the Maroons, armed bands of freed slaves roaming the countryside. Abolition of the slave trade (1807), emancipation of the slaves (1833), and a drop in sugar prices eventually led to a depression that resulted in an uprising in 1865. The following year Jamaica became a Crown colony, and conditions improved considerably. Introduction of bananas reduced dependence on sugar.
Jamaica's 5 Best Beaches
Doctor's Cave Beach. Easily one of Montego Bay's most popular beach hangouts, Doctor's Cave Beach is a stretch of golden sand and calm, rippling waters is quite intimate thanks to a ban on radios, footballs and vendors. This beach is close to some large resorts, so it can get crowded during the height of the winter tourist season. There's a small fee for admittance to Doctor's Cave Beach, but that makes facilities clean, with tiled changing rooms, and rental equipment, such as chairs, umbrellas and snorkeling equipment. There are nearby beach restaurants, like the Groovy Grouper Bar and Grill, and other water sports and tour activities can be booked here, including glass-bottom boat tours, sailing, kayaking and water-skiing.
Negril (Seven Mile Beach). If you're ready to get your "Jamaica Jaman"-party going on the beach, head directly to Seven Mile Beach (yes, it's 7 miles long) in Negril, Jamaica's best spot for sunbathing. This haunt is famous for attracting sexy sunbathers, locals, families and even nudists lurking in designated 'nude' areas. Street food, like jerk chicken, are on offer by beach vendors, and there are many water sport options and clothing for sale. Live reggae music usually pumps from Alfred's Ocean Palace, where partiers jive on the sand. And for the night owl, hit the Jungle Night Club where the party continues until sunrise.
Treasure Beach. You'll have to bundu-bash to get to Jamaica's idyllic Treasure Beach, but it is worth the 2-hour drive over bumpy back-roads. It's a collection of four fishing villages and dark sand beaches stretching for nearly 6 miles, blissfully untouched by hordes of tourists. Very peaceful, Treasure Beach has beachfront cottage rentals and charming guesthouses, many of which are located in Frenchman's Bay and Calabash Bay, the area's most popular beaches. The Santa Cruz Mountains are a beautiful backdrop to waters colored with charming fishing boats, a secret secluded Jamaican world. Though isolated, Treasure Beach is far from dull. After sunset, there's the Pelican Bar, or Frenchman's Reef restaurant for spicy jerk chicken and lobster at good prices.
Boston Bay Beach. On the island's eastern side you'll find water so bright blue it almost hurts the eye. Boston Bay Beach is a cove, picture-perfect, flanked by tree-covered rocks, and a surfer's paradise. Large waves attract surfers, and travelers and novices alike can rent boards or get surfing, kitesurfing or windsurfing lessons here. Jamaica's best jerk stands, said to dish up the finest - and hottest - spicy jerk food and sauce in Jamaica are found here, the birthplace of jerk food.
Reggae Beach. At Reggae Beach, you'll likely hear the sounds of afternoon reggae jam sessions that often take place on the soft sands. Local musicians flock here to play tunes and enjoy the soft sands and crystal clear water. With cliffs on either side, Reggae Beach is picturesque, and with waters filled with fan corals and colorful clownfish and rays, it also is good for snorkeling. Grab food and drink at one of three beachfront bars, while listening to DJs or the frequent live music. Fridays make good afternoon visits, when after-work jam sessions are held, DJs spin tunes and a bonfire blazes until early morning.

Coolest Caribbean
Tip of the Day
As a tourist or expat in the Caribbean you can make a difference to the ecology and a greener, better world: When at a restaurant request paper cups if they serve drinks in plastic or other non-biodegradable cups. Paper cups are less harmful to the delicate eco-systems that make the Caribbean so beautiful. Please remember, everything eventually ends up in the ocean.