St. Croix US Virgin Islands

is an Unincorporated U.S. Territory.

An Unincorporated Territory of the United States means that Congress has determined that only select parts of the U.S. Constitution apply.

St. Croix is known as "America's Paradise" in the Caribbean Sea, and the largest of the United States Virgin Islands. The other two US Virgin Islands are St. John and St. Thomas.

Saint Croix is located 1100 miles south east of Miami, near the eastern tip of the Caribbean island chain. View Map.

St. Croix, US Virgin Islands is famous for it's coral reef, scenic drives, scuba diving and being the easternmost point of the United States.
Top 10 Things
Random Order
1.
Night-diving the old Frederiksted Pier
2.
Snorkeling the Buck Island Reef National Monument
3.
Swimming at Rainbow Beach
4.
Kayak the bioluminescent bay at Salt River
5.
Experience the Annaly Bay tide pools
6.
Catamaran Tours with Jolly Roger
7.
Horseriding tours
8.
U.S. Fish and Wildlife Sandy Point Wildlife Refuge
9.
Easternmost point of the United States, Point Udall.
10.
Whim Plantation Museum

Vacation Highlight
Editor's Choice
St. Croix is a relatively flat island compared to St. Thomas, USVI. So if you're not going to spend all your time in the rain forest area, there's no need for an off-road jeep. Any car will suffice. We recommend you skip the taxis, they charge per person, and way too much. There are enough car rentals at affordable rates. Try Olympic Rent-A-Car.
St. Croix is a great getaway destination. Young people adore its fantastic beaches and breathtaking nature.
One such is Rainbow Beach. Placed along the west end shore of St. Croix, this beach is a realm of soft sand and clear, calm waters. Spend the whole day swimming and sunbathing, and charge your batteries to the full. Since this is the top favorite resting destination even for locals, if you want to avoid crowds, it'd b better to visit this beach on working days.
Read more about young couples favorite Saint Croix locations.
Enjoy your stay!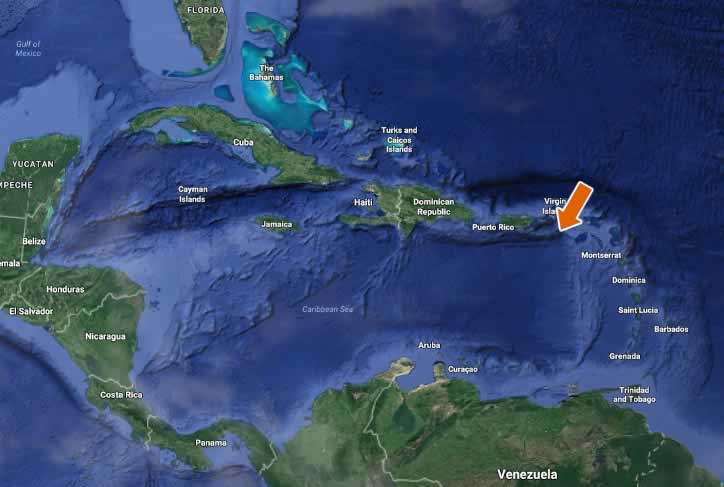 If you own or manage a business in the
Caribbean
and need
professional assistance with your website
and social media,
gandor.tv
will create, maintain, host and promote your website for you.
National Anthem
"Virgin Islands March"

Weather Forecast
St. Croix, USVI
Photo Feature St. Croix
Tag us @CoolestCarib

Fun Facts
St. Croix US Virgin Islands
Nationality
Crucian or Cruzian (pronounced "krew-shun"). The residents of St. Croix, US Virgin islands are U.S. citizens, although they cannot vote in presidential elections and have only non-voting status in Congress.
Capital
Charlotte Amalie, located on St. Thomas, is the capital and largest city of the U.S. Virgin Islands, founded in 1666 as Taphus. Christiansted used to be the capital during Danish reign and Fredriksted is the other main town on the island.
Size
The island has an area of 214.66 km2 (82.88 sq mi). 28 by 7 miles (45 by 11 km).
Official Language
English
Drives on the
Left side of the road
Population
65,000 (about 32,000 in Fredriksted).
Governmant
Virgin Islanders were granted U.S. citizenship in 1927. The right to vote in public elections was given in 1936 to all who could read and write English. The governor was elected by popular vote for the first time in 1970. Currently the US Virgin Islands have a nonvoting representative in Congress. Residents of these islands generally enjoy the same rights as those of US citizens, but they may not vote in presidential elections.
Currency & Credit Cards
St. Croix's currency is US Dollar. Major Credit Cards are accepted. ATM machines are located in banks and selected commercial outlets
Banks
Banco Popular, First Bank Virgin Islands, Scotiabank and Virgin Islands comunity banks.
Time Zone
GMT/UTC - 4h (utilizes no Daylight Saving Time) in Atlantic Standard Time.
Phone Codes
US (+1) + Dialing Code (340)
Taxation
There is no sales tax in St. Croix, Virgin Islands. Residents pay income tax to the USVI government.
Animals
Iguanas, pelicans, mongoose, scorpions (not poisonous), donkeys, deer, hummingbirds, herons, bats and more. There are also various lizards, frogs and insects.
Food
Banana, Mango, Orange and Cashews.
Plants
Frangipani, Allamanda, Heliconia, Bougainvillea, Oleander, Hibiscus, Double Hibiscus, Flamboyant (Orange), Flamboyant (Yellow), Ixora, Agave / Century Plant, Cactus The Virgin Islands national flower is the yellow cedar (Tecoma Stans).
Lingo
The language of the locals in St. Croix, Virgin Islands, is English with a West Indian based dialects. For instance, the 'H' is often discarded ("thing" becomes "ting", and "thanks" becomes "tanks...mon"). Also water is pronouced watta and mother matta.
Must-See / Must-Do Things
Shopping in St. Croix is like doing a sightseeing tour. Find trinkets and souvenirs in quaint shops, tucked in historic buildings made of cut coral, molasses mortar, and Danish ballast bricks from trading ships of the 1700 and 1800s. See interesting shaded courtyards, or stop for a drink in these restored houses that are now small shopping malls.
Buck Island Snorkeling - Buck Island is a small, uninhabited island that is protected by the U.S. government as "one of the finest marine gardens in the Caribbean Sea". It is not on the island of St. Croix, but a short kayak or boat ride away, making it a fun outing to get there. There are outstanding, colorful, clear-water, even legendary, underwater trails and a golden, fine powdered beach, called Turtle Beach, to frequent.
Visit Cruzan Rum Distillery - www.cruzanrum.com. Once there were over 150 plantations on St Croix that produced rum. The Nelthropp family still does just that with Cruzan Rum, named one of the best in world. Weekday tours of the distillery, founded in 1760 in Frederiksted, make for a fun and informative day visit. You can see how this well-known rum is made, taste some rum and also explore the history involved.
Kayaking St. Croix - St. Croix has many options for kayak lovers. You can either rent kayaks at various hotels (www.thebuccaneer.com or www.hotelonthecay.com) or there are some excellent guided kayak tours available at specific venues. Something special is evening kayak tours in the bioluminescent waters of Salt River Bay's National Historic Park & Ecolological Preserve, call Caribbean Adventure Tours at 340-778-1522. If that is not enough yet, try Sea Thru Kayaks VI, call 340-244-8696 - as the name suggests, the kayaks are see-through, so you have a perfect view in crystal clear waters while kayaking. Their Creepy, Crawly, Critter Tour is featured in the Virgin Islands Daily News and not to be missed.
St Croix Hikes - If you are just looking for a light, fun experience, some recommendations are hikes to Jack and Isaac Bays, Creque Dam, or the Hams Bluff Light House. Also, the St. Croix Environmental Association & The St. Croix Landmarks Society sponsor regular hikes, and for a small fee you can get a guided ecological and historical overview of the area. The Bay Tidal Pools is a scenic, but a bit more challenging hike. The trail starts at the Carambola Resort, is about 2 miles long and you walk through rainforest vegetation and tall grass, with breathtaking views of Carambola and the Caribbean Sea. The hike ends at a rocky beach with beautiful, naturally formed tide pools.
5 Best Beaches in St. Croix
Hotel on the Cay/Protestant Cay. A short ferry ride away from Christiansted Harbor lies Protestant Cay, home of the Hotel on the Cay. The sandy islet beach looks like a little paradise oasis from the harbor and is fab for sunning and swimming. Watersports equipment is for rent, and lunch and drinks are served beachside. It has great views of Christiansted, so shopping in town in the morning and going to the beach in the afternoon is a popular day in Christiansted.
The Buccaneer Beach (www.thebuccaneer.com) This is a great beach at The Buccaneer Hotel, so there is a per person fee of $4 to use the beach. On the way to the beach there is a charming shopping arcade and a golf course to make use of, depending on your time schedule, but press on and you will reach the beach! The beach is a typical island experience, with watersports, and lunch is served at the Mermaid Restaurant.
Divi Carina Beach. At the fork on Route 82, turn right to the Divi Carina Resort Hotel. The beach is well-known for its great snorkeling. Watersport equipment is for rent, there is a day spa and the hotel has a shop, bar and restaurant. Stay later and you can also enjoy the casino there too.
Cane Bay Beach. From Christiansted this is a rather long drive, but the coastal road along Route 80, St. Croix's north shore, is very scenic and worthwhile. Cane Bay beach is across from Cane Bay Plantation, has lots of shade and is world renowned as an excellent snorkeling and scuba diving spot. It is not a wide beach, but famous among divers because of the 1,000 feet plunge about 250 meters off shore. Divers often swim out and "jump off the wall" (know as the Cane Bay Wall) into the deep! There is a bar and restaurant adjacent to the beach while Cane Bay Dive Shop also offers special cottage accommodation nearby.
Davis Bay Beach is a little past Cane Bay and part of the Carambola Resort development. At the resort's gatehouse they will direct you to the beach. Davis Bay has an unusual-for-St.Croix aspect to it - it has a surf and gentle waves. It is a long, white sandy beach, with a beach bar, hotel restaurant and boutique. Most of the other hotel facilities, except the golf course, are not open to the public.
Brief History
Saint Croix was a possession of France from 1650 until 1733. On June 13, 1733, France sold the island group to the Danish West Indies Company. Christiansted once was the West Indies Danish capital (1734). For nearly 200 years, the islands were known as the Danish West Indies. St. Croix and the Danish West Indies were sold to the United States by Denmark in the Treaty of the Danish West Indies of 1916, in exchange for a sum of US$25,000,000 in gold. In a national referendum 64.2% of Danish voters approved the sale. An unofficial referendum held in the islands resulted in 99.83% vote in favor of the purchase. [Source: Wikipedia]
Geography
St. Croix lies at 17"45'N 64°45'W: the furthest eastern point in the United States of America is St. Croix's Point Udall. The island has an area of 214.66 km2 (82.88 sq mi). The highest point on the island, Mount Eagle, is 1,165 feet (355 m) high. The eastern and north sides, from Christiansted west, are mostly rocky, arid and steep. Fairly even plain slopes stretch down to the south coast from the northern hills. The west end is greener with a small rain forest.

Coolest Caribbean
Tip of the Day
Best holiday deals in the Caribbean are between June and September. It's off season, so expect really really good deals in terms of accommodation, car rentals and boating trips. Don't be shy to ask companies whether they're running specials. Also follow CoolestCarib on social media for specials. We're on Facebook, Twitter, Instagram and Tumblr.