Anguilla

is a British Overseas Territory in the Caribbean.

Anguilla is the most northerly of the Leeward Islands in the Lesser Antilles.

Anguilla is located north of Saint Martin and east of the Virgin Islands. View Map

Anguilla is known for its sailboat racing, family fun beaches, adventure shore sports, watersports and historical and cultural activities.

The name Anguilla means eel in Italian, and named as such in reference of its shape.
Top 10 Things
Random Order
1.
Shoal Bay East
(view more below)
2.
Snorkeling at Little Bay
3.
Prickly Pear Cays - a private beach reached by boat
4.
Socialize & BBQ with locals on the Strip
5.
Visit the geological and historical wonder: Water Fountain Cavern National Park - view ancient petroglyphs
6.
Meads Bay - less crowded than Shoal Bay East
7.
Go Horseback riding
8.
See Anguilla's oldest structure - Wallblake House - on Anguilla's Heritage trail
9.
Kitesurfing
10.
Visit Ronald Webster Park - A multi-use stadium
Read Fun Facts below

Enjoy your stay!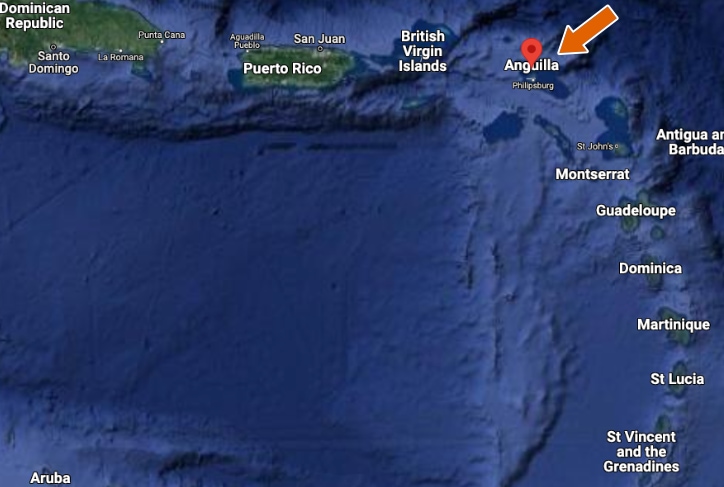 If you own or manage a business in the
Caribbean
and need
professional assistance with your website
and social media,
gandor.tv
will create, maintain, host and promote your website for you.
National Anthem
"God Bless Anguilla"

WEATHER FORECAST
ANGUILLA

Nationality
Anguillans
Size
Anguilla's land area covers 35 square miles (91 square kilometers). It is 16 (26 kilometers) long and three-and-one-half miles (6 kilometers) wide. The highest elevation is of 213 feet (65 meters) at Crocus Hill. 
Population
15198
Currency & Credit Cards
Eastern Caribbean dollar and the U.S. dollar
Government
Anguilla's government is under the authority of the British government at Westminster, London and consists of the governor, the Executive Council, and the House of Assembly. The governor holds executive power and is appointed by the British monarch, and is responsible for external affairs, internal financial affairs, defense, and internal security. The Executive Council advises the governor. The House of Assembly has two nominated members and seven elected members. Other key political positions are the AG (attorney general) and secretary to the Executive Council.
Time Zone
EST (UTC-5). Summer (DST). EDT (UTC-4).
Drives on the
Left
Calling Code
+1 264
Coordinates
Latitude: 18° 13' 23.77" N
Longitude: -63° 03' 23.88" W
Capital
The Valley
Banks
Caribbean Commercial Investment Bank Ltd., Foreign Commerce Bank Limited, National Bank of Anguilla (Private Banking and Trust) Limited, National Commercial Bank of Anguilla Limited, Republic Bank (Anguilla) Limited.
Animals
The tiny Anguilla Bank Anole (Anolis gingivinus) is a species of the anole lizard. Sweet Bees of more than 1700 species. Sombrero Ameiva Lizard. Hawksbill sea turtle. The masked booby sea bird with a 65-inch wingspan
Top Anguilla Beaches
Anguilla has 33 spectacular and diverse beaches. Here are our top 5.
Shoal Beach
Two miles long. Soft white sands. Great for watersports, walks, swimming, dolphin watching. Very popular with its resorts, restaurants and beachbars.
Meads
Located on the north shore with restaurants and hotels. Equally popular, less crowded. Waves appropriate for advanced surfing.
Savannah Bay
Wild, remote, natural and off the beaten path, easily accessible. Waves appropriate for advanced surfing.
Cove Bay
View of St. Martin. Sensational sunset. Very family, walking, swimming-friendly. Allso great for kitesurfing and horseback-riding.
Sandy Ground Beach
Very urban and lively. Loads of amenities. Turns in a social hot spot in the evenings. Venue for Anguilla's Summer Festival
Brief History of Anguilla
Anguilla not much larger than an average US city, has a rich heritage that dates back a few thousand years ago when the first Amerindians - the Arawak Indians settled here and then routed by the Carib Indians. Early Spanish explorers named the island Anguilla, which means 'eel', due to its elongated shape.
Anguilla became a British colony in 1650 and despite attempts by the French to colonize, it has remained a British colony ever since. In 1967, Britain encouraged that Anguilla forms a relationship with St Kitts and Nevis to create a new Caribbean nation. Anguillians didn't fancy that thinking they would be undermined by the bigger islands of St. Kitts and Nevis. The islands became a 'state in association' with the UK, and in 1980 they were granted the status of a British Dependent Territory.

Coolest Caribbean
Tip of the Day
Where to get organic food in the Caribbean? The best bet is local farmers' markets. Just ask for non-GMO or organic produce.