St. Thomas
US Virgin Islands

is an Unincorporated U.S. Territory.

An Unincorporated Territory of the United States means that Congress has determined that only select parts of the U.S. Constitution apply.

St. Thomas is one of the three main US Virgin Islands in the Caribbean. The other two are St. Croix and St. John.

Saint Thomas is located east of Puerto Rico in the Eastern Caribbean See. View Map

St. Thomas US Virgin Islands is famous for its international yacht club, duty free shopping, swimming with turtles, scuba diving and vast variety of boating/snorkling options.
Top 10 Things
Random Order
1.
Kayaking After Dark in see-through kayaks
2.
Jetski at Lindbergh Bay
3.
Mountain Top (Panoramic Views of USVI and BVI)
4.
Swimming at Magens Bay
5.
Scuba at wth Patagon Dive Center
6.
Catamaran tours with The VI Cat
7.
Skyride to Paradise Point
8.
Rent a scooter, bike or jeep and tour the island
9.
Island Life Jeep Tours
10.
Island Hop with Caribbean Blue Boat Charters

Vacation Highlight
Editor's Choice
Having your own transport is easy, and cheaper in the long run.
For Jeep Wranglers rentals check out JeepsVI.com
. For sedans and luxury cars check out
Thrifty
or
Budget
. For
electric cars EcoRentalsVI.com
. And for two wheelers, as in scooters or motorbikes, go to
ScooterVI.com
. Ensure you make your reservations in advance.
If you're planning to visit St. Thomas as a group or big family, Premier Destination Services will arrange everything from transport, accommodation to tours. And if you're coming by boat Virgin Port Services will facilitate your visit.
Where to stay? How about a private villa? Book your villa directly from owners. Secret Haven Luxury Villa is 5 bedroom 5 bathroom house located at East End overlooking Secret Harbor. Another villa is Villa Sol Y Luna with panoramic sea views, infinity pool and big entertainment area.
Once you've arranged your basic needs, how about planning for some water sports? For snorkelling, swimming and catamaran sailing lovers The VI Cat has it all plus luncheons and sunset cocktail trips. At the same location, at Frenchman's Cove, St. Thomas Water Sports offers SUP Paddle Boarding tours and After Dark kayak tours. There's a water shuttle between waterfront, downtown Charlotte Amalie and Frenchman's Cove, that runs every 30 minutes, also known as the shopping shuttle.
For fast speed trips to the BVI (British Virgin Islands) or around St. Thomas and St. John visit Caribbean Blue Boat Charters - they're also famos for their pub crawling excursions to a few islands per day. For the underwater explorers, PatagonDiveCenter is a true blessing to private family scuba diving groups. They offer scuba excursions and lessons all year round.
Other water sport activities include jetski tours and flyboarding for the adrenaline junkies.
Want to see the island and possibly St. John too, and don't want to drive? Check out Island Life Jeep Tours, they offer customize-able private, guided jeep tours. The tours could include snorkeling, bar hopping or whatever's on your bucket list.
Hungry yet? In the heart of Charlotte Amalie, downtown, you'll find the open air stylish Spanish restaurant Amalia Café, also open for supper. If you're in a rush, Pita Express, next to Amalia Café, does the trick. And for a quick - or a long - drink, look out for the open air American style circular bar in the same Palm Passage.
In Havensight there is a bowling venue in an all American style, family-fun, game arcade where they serve spit roasted chicken daily. They sport loads of other games too like darts, foosball and billiards, and they're open till late. Book your bowline lane at BowlingVI.com
A newcomer, relatively speaking, is The Tap & Still franchise, a sports bar serving fresh beer and burgers located at Havensight, Redhook in St. Thomas and Cruzbay in St. John.
If you're into organic food and the best coffee in town then Barefoot Buddha is your answer. Their adjacent Buddha Boutique sells bohemian trinkets, organic cosmetics, and loads of free-trade and natural clothing items.
An established wedding cake studio Island Sweet Stuff is also a bakery / coffee and pizza boutique. Very quaint and located in the Tillet Gardens complex in the center of Saint Thomas.
Lastly if you wish to island crawl between St. Thomas and St. Croix take a ferry with Native Son Ferries. They're also running a one off Easter special between St. John and St. Croix on 3 April: Book Here.
Enjoy your stay!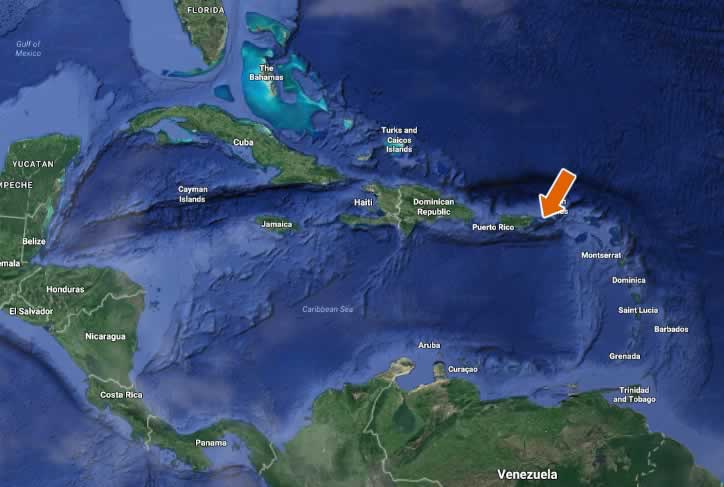 If you own or manage a business in the
Caribbean
and need
professional assistance with your website
and social media,
gandor.tv
will create, maintain, host and promote your website for you.
National Anthem
"Virgin Islands March"

Weather Forecast
Saint Thomas, USVI
Photo Feature St. Thomas
Tag us @CoolestCarib

Fun Facts
St. Thomas, USVI
Nationality
The residents of St. Thomas, US Virgin islands are U.S. citizens, although they cannot vote in presidential elections and have only non-voting status in Congress.
Size
32 square miles.
Population
51,634 (2010 census)
Currency & Credit Cards
US Dollar. Major Credit Cards are accepted. ATM machines are located in banks and selected commercial outlets
Banks
Banco Popular, First Bank Virgin Islands, Scotiabank
Taxation
There is no sales tax in St. Thomas, US Virgin Islands. Residents pay income tax to the USVI government.
Animals
Iguanas, pelicans, mongoose, scorpions (not poisonous), donkeys, deer, hummingbirds, herons, bats and more. There are also various lizards, frogs and insects.
Food
Banana, Mango, Orange and Cashews.
Plants
Frangipani, Allamanda, Heliconia, Bougainvillea, Oleander, Hibiscus, Double Hibiscus, Flamboyant (Orange), Flamboyant (Yellow), Ixora, Agave / Century Plant, Cactus The Virgin Islands national flower is the yellow cedar (Tecoma Stans).
Lingo
The language of the locals is English with a West Indian based dialects. For instance, the 'H' is often discarded ("thing" becomes "ting", and "thanks" becomes "tanks...mon"). Also water is pronouced watta and mother matta.
Brief History
St. Thomas, US Virgin Islands, was originally settled around 1500 BC by the Ciboney people. They were later replaced by the Arawaks and then the Caribs. Christopher Columbus sighted the island in 1493 on his second voyage to the "New World". The Dutch West India Company established a post on Saint Thomas in 1657. The Danish conquered the island in 1666, and by 1672 had established control over the entire island through the Danish West India and Guinea Company. The land was divided into plantations and sugar cane production became the primary economic activity. In 1691 the primary settlement there was renamed Charlotte Amalie in honor of the wife of Denmark's King Christian V. It was later declared a free port by Frederick V. While the sugar trade had brought prosperity to the island's free citizens, by the early 19th century Saint Thomas was in decline. The continued export of sugar was threatened by hurricanes, drought, and American competition. In 1917 St. Thomas was purchased (along with Saint John and Saint Croix) by the United States for $25 million in gold as part of a defensive strategy to maintain control over the Caribbean and the Panama Canal during the First World War.

Coolest Caribbean
Tip of the Day
One for the girls. On holiday in the Caribbean, want to continue with your healthy eating program, or on a budget. Order iced green tea with lemon and honey. It's super healthy, and looks like a cocktail. When asked what you're drinking, say a CoolestCarib Cocktail.