Barbados is a sovereign island country in the eastern Caribbean sea.
Located 62 miles east of the windward islands, the eastern most Caribbean island. View Map
Barbados is famous for its cricket greens, varied beaches, British influence and water sports with surf in the north and kitesurf in the east.
Top 10 Things
Random Order
1.
Andromeda Botanical garden on the wild, wave-pummelled East Coast
2.
Plantation house
3.
Harrison's caves in center of island
4.
Historic Garrison Savannah guided tour
5.
Barbados Wildlife Reserve
6.
Experience Mount Gay Rum Visitor Center
7.
Barbados Museum of Parliament and National Heroes Gallery
8.
The Bushy Park Ultimate Driving Experiences
9.
Go see the magnificent Baobab Tree in Queen's Park
10.
Take a crewed catamaran ride along the exclusive West Coast

Vacation Highlight
Editor's Choice
Make the best of your stay and learn a new sport: windsurf, kitesurf or surf. Plenty of rentals along the coastline between the capital Bridgetown, south west, and Long Beach, south east, where most of the tourist resorts and restaurants are located.
Endless Kiteboarding
is one of the Caribbean's premier kitesurf schools that also offers windsurf, surf and paddle board rentals and lessons. They're located at Silver Rock, Christ Church. Read more Barbados related articles on our blog:
CoolestCarib.com/blog.
Enjoy your stay!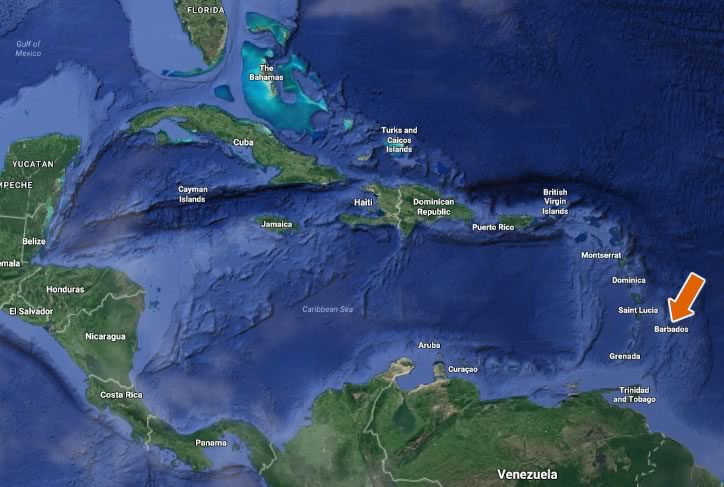 If you own or manage a business in the
Caribbean
and need
professional assistance with your website
and social media,
gandor.tv
will create, maintain, host and promote your website for you.
NATIONAL ANTHEM
"The Barbados national anthem"

WEATHER FORECAST
BARBADOS

Nationality
The residents of Barbados are called Barbadian, or Bajan if you're a local. They are self-confident, dynamic and love getting things done.
Size
166 square miles.
Population
274, 200 (2010 census).
Local Radio Station
Voice of Barbados: 92.9 FM. Known for lively phone ins and local news.
Currency & Credit Cards
Barbadian dollar ($) BBD. Major Credit Cards are accepted. ATM machines are located in banks and selected commercial outlets
Government
Unitary Parliamentary constitutional monarch.
Independence
Independence from the United Kingdom: 30 November 1966
Time Zone
Eastern Caribbean (UTC-4)
Drives on the
Left
Calling Code
+1 246
Animals
Iguanas, pelicans, mongoose, scorpions (not poisonous), donkeys, deer, hummingbirds, herons, bats and more. There are also various lizards, frogs and insects.
Food
Banana, Mango, Orange and Cashews.
Plants
Frangipani, Allamanda, Heliconia, Bougainvillea, Oleander, Hibiscus, Double Hibiscus, Flamboyant (Orange), Flamboyant (Yellow), Ixora, Agave / Century Plant, Cactus
Lingo
The language of the locals is English with a West Indian based dialects. For instance, the 'H' is often discarded ("thing" becomes "ting", and "thanks" becomes "tanks...mon"). Also water is pronouced watta and mother matta.

Brief History
Barbados first appears on a Spanish map from 1511. Historians have it that the Spanish may have plundered the island first. The Portuguese arrived in 1536 but also left it unclaimed. The first Englsh ship, the Olive Blossom, arrived in Barbados in 1624 in took pessession of it.

Coolest Caribbean
Tip of the Day
Feeling stuffy in your white linen outfits in the hot Caribbean weather? Pack bamboo golf shirts, T-shirts, dresses (or buy in the Caribbean - there are many stores which carry them). You don't need to iron bamboo material, which makes it ideal for travel. The material breathes better than cotton, so you stay cooler for longer. Bamboo is also good for your skin, so they say.