Aruba is a constituent country of the Kingdom of the Netherlands.
Aruba is the A in the ABC islands. The other two are Bonaire and Curacao.
Aruba is one of the Lesser Antilles islands located in the southern Caribbean Sea just north of Venezuela. View Map
Aruba is famous for its white-sand beaches, cooling trade winds, friendly people and water sports.
Top 10 Things
Random Order
1.
Water sports on Palm Beach i.e.:
Vela Aruba
, they offer rentals and lessons on kitesurf, windsurf, kayak or SUP (Stand-Up Paddleboard).
2.
Visit Eagle beach, known as "Low-Rise area" for its low-to-the-ground hotels and timeshares, and go for a meal or drinks at a beach bar (literally on the beach) i.e.: Matthews at
Casa Del Mar
.
3.
Visit the donkey sanctuary or ostrich farm.
4.
Catamaran Snorkeling Tours.
5.
Spend time with Flamingos on the private island of Renaissance - they sell day passes.
6.
Arikok National Park
7.
California Lighthouse - It's FREE!
8.
Natural Pool - nature at its best)
9.
Beach / Snorkel Horseback Ride
10.
Stroll downtown and get the inside scoop directly from locals.

Vacation Highlight
Editor's Choice
Two beaches: Eagle Beach and Palm Beach.
If you're a day tripper you can't go wrong with breakfast, lunch or supper at Matthew's Beach Restaurant at Casa Del Mar literally on Eagle Beach. If you're overnighting Casa Del Mar Aruba Resort & Timeshare is right there - on Eagle Beach - perfectly located between Palm Beach and downtown.
And go to Palm Beach for all the watersports you can possibly dream of. Vela Aruba offers kitesurfing, SUP paddleboarding, SUP yoga, windsurfing, plus they have a trendy store with the latest beach fashion and snorkeling gear.
Get there by taxi or rent a car. Taxis are very affordable. But guess what? So is renting a car. Yes, for a 5 star Caribbean island, car rental is extremely affordable. Check out Thrifty Rent A Car Aruba - they seem to have rental offices all over the island with really good rates.
Lastly, if you want to move to Aruba, see our blog for the complete guide.
Enjoy your stay!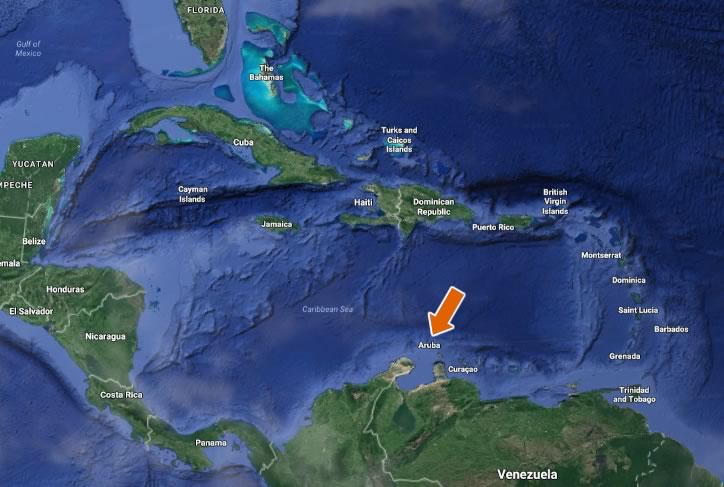 If you own or manage a business in the
Caribbean
and need
professional assistance with your website
and social media,
gandor.tv
will create, maintain, host and promote your website for you.
National Anthem
"Aruba Precious Country"

PHOTO FEATURE
ARUBA
Tag us @CoolestCarib

Nationality
Aruban
Size
It measures 32 kilometres (20 mi) long from its northwestern to its southeastern end and 10 kilometres (6 mi) across at its widest point. 179 km2 (69.1 sq mi).
Geography
Aruba is an island in the southern Caribbean Sea, located about 1,600 kilometres (990 mi) west of the Lesser Antilles and 29 kilometres (18 mi) north of the coast of Venezuela. (wikipedia.org)
Population
102,911 inhabitants (2013 estimate)
Currency & Credit Cards
Euros are still not widely accepted but can be easily exchanged at a local bank for Aruban Florins.
Government
Unitary parliamentary representative democracy under constitutional monarchy.
Capital
Oranjestad: 12°31' N 70°2' W
Other Cities
Paradera, San Nicolas, Noord, Santa Cruz, Savaneta
Time Zone
AST (UTC-4)
Drives on the
Right
Calling Code
+ 297
Animals
The island, mainly the rocky southern part, is the only place where one finds the venomous
Aruba Island Rattlesnake
. It is critically endangered with less than 250 vipers left in the world and also illegal to export. Also found here are
Cottontail Rabbits, wild donkeys, goats, sheep, iguanas, variety of lizards
(including the
Pega Pega,
cousins to the gecko with tiny suction pads on their feet which allow them to walk practically anywhere. They are one of the last remaining prehistoric species who have eluded extinction and have extremely loud voices),
pelicans
and
bats
.
Food
A lot of Latin American cuisine is found in Aruba,
ayaca
is a dish of beef, pork, or chicken mixed with raisins, capers, and olives and wrapped in cornmeal dough, all folded within plantain leaves, tied with strings, and boiled or steamed afterwards. Served during the Christmas holiday.
Ponche crema
is a Trinidadian and Venezuelan cream-based liqueur. Recipes vary depending on the region, but main ingredients typically include milk, eggs, sugar, rum, and other minor ingredients such as vanilla, nutmeg, cinnamon, and lemon rind. Typical Dutch food also abound, like
bitterballen
and
fritters
. Typical side dishes in Aruba are
funchi
(corn polenta) or
pan bati
(pancakes/smashed bread).
Plants
The trademark
Divi Divi Tree or Watapana Tree
always points in a southwesterly direction, due to the trade winds that blow across the island from the north-east. Attempts to plant this 'compass' tree in other parts of the world have proved unsuccessful. Also found -
Mondis (forests of cacti)
. Despite its arid climate, Aruba has
Magdalena
, similar to Impatiens found in the Eastern US, but which survive with very little water. Their purple and white flowers blossom all year round. Also widespread are
Caribbean Pines
, a variety of
Hibiscus
as well as
Bougainvilleas
,
Wild Orchids
and other
cacti, vines, shrubs
and
trees
.
Lingo
Dutch and Papiemento/Papiamentu, which is the widely spoken on the Caribbean ABC islands (Aruba Bonaire and Curaçao) where it has official status as the native language. The language is also recognized on Bonaire by the Dutch government.
Papiamento is derived from African and Portuguese languages with some influences from American Indian languages English, Dutch and Spanish (mostly Spanish). Papiamento has two main dialects: Papiamento, spoken primarily on Aruba; and Papiamentu, spoken on Curaçao. The Bonaire variety, while not considered a dialect, is known as Papiamen.
Thank you Wikipedia!

Religion
81% Roman Catholic
Sovereign State
Kingdom of the Netherlands
Legislature
Estates of Aruba
Autonomy
From the Netherlands Antilles on 1 January 1986
Climate
Tropical semi-arid climate. Mean monthly temperature in Oranjestad varies little from 26.7 °C (80.1 °F) to 29.2 °C (84.6 °F). Constant trade winds from the Atlantic Ocean, comes from north-east. Yearly rainfall hardly exceeds 470 mm (18.5 in) in Oranjestad.
Brief History
Aruba's first inhabitants were from the Arawak tribe, who migrated there from Venezuela to escape attacks by the Caribs. Parts of the earliest known Indian settlements date back to 1000 AD. Europeans first learned of Aruba following the explorations for Spain by Amerigo Vespucci and Alonso de Ojeda in 1499. Both learned of it from natives of nearby islands and described Aruba as an "island of giants", remarking on the comparatively large stature of the native Caquetíos, compared to Europeans. Gold was discovered on Aruba 300 years later. Vespucci visited Spain with stocks of cotton and brazilwood from the island and described houses built into the sea. Vespucci and Ojeda's tales spurred interest, and Spaniards soon colonized the island.
Because it had low rainfall, no plantations were developed and slave trading was minimal. Aruba was colonized by Spain for over a century. In 1508, the Spanish Crown appointed Alonso de Ojeda as its first Governor of Aruba, as part of Nueva Andalucía. Another Spanish governor appointed was Juan Martínez de Ampiés. In 1528, Ampíes was replaced by a representative of the House of Welser.
The Netherlands regulated Aruba since 1629. Since 1636 however, Aruba has been under Dutch administration, initially governed by Peter Stuyvesant, later appointed to New Amsterdam (New York City). The island was then included under the Dutch West India Company (W.I.C.) administration from 1648 to 1664. The Dutch controlled Aruba 135 years after the Spanish, allowing the Arawaks stockbreeding, and turned the island into a meat source for other Dutch Caribbean colonies. In 1933, Aruba sent its first request to the Queen seeking independent status and autonomy.
During World War II , Aruba was one of the main suppliers of refined petroleum products to the Allies Aruba was made a British protectorate from 1940 to 1942, and a US protectorate from 1942 to 1945.
In March 1944, Eleanor Roosevelt, the First Lady of the United States, briefly visited American troops stationed in Aruba.
Currently Aruba is a sovereign state in the Kingdom of the Netherlands.
Coolest Caribbean
Tip of the Day
One for the girls. On holiday in the Caribbean, want to continue with your healthy eating program, or on a budget. Order iced green tea with lemon and honey. It's super healthy, and looks like a cocktail. When asked what you're drinking, say a CoolestCarib Cocktail.