The Caribbean is the ultimate destination for a romantic honeymoon. Its crystal-clear waters, white sandy beaches, and warm tropical climate make it the perfect place to relax and unwind with your significant other. But with so many islands to choose from, it can be difficult to decide where to go. That's why we've compiled a list of the top 5 Caribbean destinations for your romantic honeymoon. From Jamaica to wonderful Antigua, these islands offer a variety of activities, delicious food, and luxurious resorts for the ultimate honeymoon experience. 
The list of top Caribbean destinations for your honeymoon
Choosing the perfect destination for your after-wedding trip in the Caribbean can be a difficult task. The main reason is simply that there are many breathtaking places everyone would love to visit at once. So, to make the decision-making a bit easier, you should consider your interests and preferences. Apart from that, the professional crew behind DubaiPT advises not to forget to optimize your physical health and fitness so that you can make the most of your honeymoon experience.
For instance, you could seek recommendations on destinations that offer activities that align with your fitness goals, whether those are hiking, swimming, or other outdoor activities. But ultimately, the most important thing is to choose a destination that you and your partner will both enjoy and make for an unforgettable honeymoon experience. 
Thus, without further ado, let's take a look at the top 5 Caribbean destinations for your romantic honeymoon.
Jamaica
St. Lucia
Bahamas
Dominican Republic
Antigua
Jamaica
Jamaica is well-known for its laid-back vibes and beautiful beaches. Plus, for the fact that it's home to some of the best resorts in the Caribbean. Here you'll be able to swim in the transparent clear waters, relax on the white sandy beaches, and enjoy delicious food and drinks. Additionally, if you're fond of active vacations, there are plenty of adventurous activities, like zip-lining and river rafting.
For the ultimate romantic experience, you can take a sunset catamaran cruise along the coast or spend the day lounging on a secluded beach. Jamaica also offers unique cultural experiences, such as visiting the Bob Marley Museum in Kingston or taking a Reggae music tour. Finally, don't forget to indulge in some authentic Jamaican cuisine, including jerk chicken and ackee, and saltfish.
St. Lucia
The island of St. Lucia is a nature lover's paradise. From the picturesque Pitons to the stunning waterfalls, there's plenty to see and do. You and your spouse can take a dip in the natural pools, hike through the rainforest, or relax on the black sand beaches.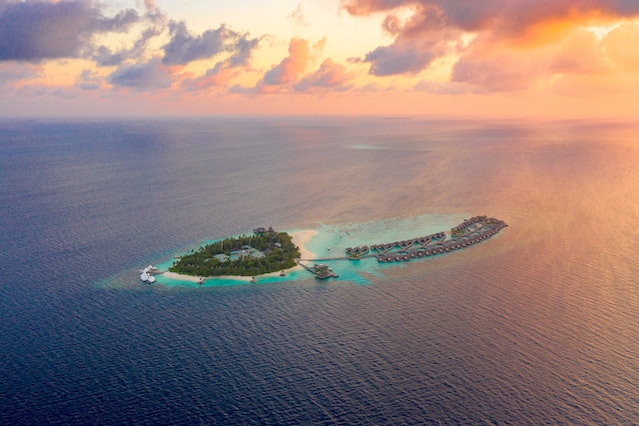 Furthermore, you shouldn't forget to go on a romantic sunset sail or have a couples' massage at one of the luxurious resorts. Additionally, you could arrange a helicopter tour over the island to see the Pitons from above or visit the world-renowned mineral baths at the Soufriere volcano. Finally, enjoy a romantic dinner in a treehouse restaurant for a beautiful ending to the day and a unique dining experience.
Bahamas as one of the most popular Caribbean destinations for your honeymoon
The Bahamas is known for its transparent waters and stunning beaches. Moreover, there are plenty of activities to choose from, like:
snorkeling,
scuba diving,
swimming with pigs,
visiting the Blue Lagoon,
dining on a private island etc.
If you're up for something extra, here you'll also be able to take a helicopter ride over the islands or enjoy a romantic dinner at one of the private islands. Additionally, the Bahamas offers plenty of shopping and dining options in the bustling city of Nassau. So, you could stroll through the colorful streets, browse the local markets, or indulge in some Bahamian seafood at one of the many waterfront restaurants.
If you decide to visit the Bahamas, book a luxury villa on the ocean in Exuma, a stylish villa on a smallish yet incredibly beautiful island.
Dominican Republic
The Dominican Republic is the island that has it all – beautiful beaches, delicious food, and plenty of activities. After taking a dip in turquoise waters, you and your spouse could go on a romantic horseback ride on the beach or take a cooking class to learn how to make traditional Dominican dishes. And, for the utmost romantic experience, there's a possibility of staying in a luxurious villa with a private pool.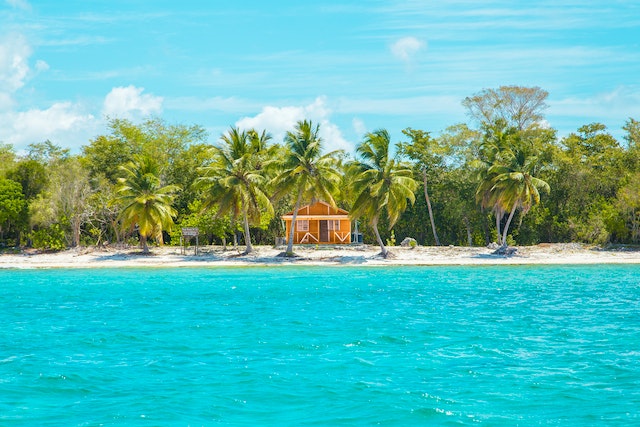 Moreover, the Dominican Republic also offers a variety of cultural experiences, such as visiting the historic city of Santo Domingo or taking a salsa dance class. Not to mention, you can also do a couple of workout ideas in the Dominican Republic, like yoga on the beach or a hike in the mountains; you can do this together and enjoy a romantic and healthy honeymoon.
Antigua
Antigua island is known for its 365 beautiful beaches, one for every day of the year. And, with numerous activities like sailing, snorkeling, and island hopping, there's something for everyone. Additionally, there are plenty of romantic resorts and spas for a relaxing honeymoon everyone wishes for.
Here you can also take a hike to the top of Shirley Heights for a panoramic view of the island and the Caribbean sea. Antigua also offers a variety of water sports and activities, including stand-up paddleboarding, kiteboarding, and windsurfing, which is a perfect option for sports lovers. Finally, for a romantic dinner, you two can indulge in some fresh seafood at one of the many beachfront restaurants.
The takeaway from top Caribbean destinations for your romantic honeymoon
In conclusion, we can all agree that the Caribbean is rightfully among the top couple destinations and perfect for your honeymoon. With its tropical climate, crystal-clear waters, and an array of romantic activities, you're bound to have the time of your life. The top five Caribbean destinations for your romantic honeymoon featured in this post – Jamaica, St. Lucia, Bahamas, Dominican Republic, and Antigua – each offer unique charm and experiences. Whether looking for adventure, relaxation, culture, or luxury, the Caribbean has something for every couple. Therefore, now it's time to grab your partner and start planning your trip to one of the top Caribbean destinations.
Photo used:
https://www.pexels.com/photo/aerial-view-of-a-beautiful-island-resort-3601425/
https://www.pexels.com/photo/sea-dawn-landscape-nature-9482126/
https://www.pexels.com/photo/photo-of-wooden-cabin-on-beach-near-coconut-trees-2598683/
https://www.pexels.com/photo/silhouette-of-man-and-woman-kissing-1024975/