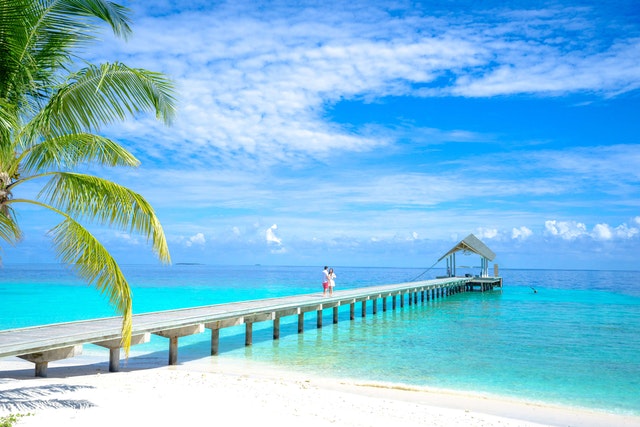 When it comes to couple getaways, we have choices and choices. But, when it comes to the romantic heavens of earth, Caribbean islands are hard to beat. There is something about these islands that makes them mystic and marvelous, something that makes everyone put them on their traveling wish lists. And the best part about the Caribbean is that there is something for every kind of couple. For instance, in the Bahamas, you can participate in all sorts of wonderful activities that will take your breath away, and in St. Lucia, you can say that you are in your own paradise.
One thing is for sure—in the Caribbean, you will walk on the softest sand, swim in the bluest waters, eat the most delicious food, and simply have the time of your life. But you already know that. What you do not know is which Caribbean island to go to. We will help you out—here are the 7 best Caribbean islands for couples.
1.  St. Lucia 
One of the best Caribbean islands for couples has to be the island of St. Lucia. Everything here is perfect. Wherever you look, you will see mesmerizing scenery—beaches, forests, resorts, etc., all look like they are from another world. Because of that fact, staying on this island is extremely expensive. But, you know what they say – best things always come with a hefty price tag. However, we are sure that you will not regret coming to this luxurious romantic getaway with your significant other.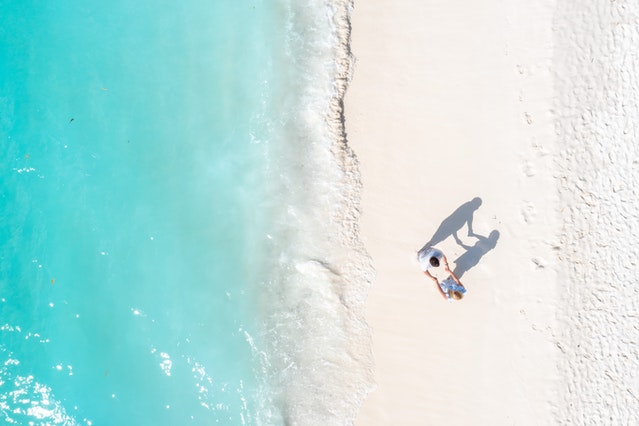 2. Cuba 
Remember those amazing-looking postcards from the Caribbean with beautiful people, wonderful architecture, palm trees, cocktails, and pastel-colored cars? All those postcards are from Cuba. And, let us tell you something—Cuba looks even more beautiful and even more vibrant in person.
But, what makes it vibrant are not only the resorts, no. Cuba is all about different cultures—cultures of people with different backgrounds, languages, customs, dress codes, foods, drinks, and so much more. So, if you and your partner decide to come to Cuba, do not be lazy and stay only in the resort. Find a guide who will take you downtown—that is where you will see the essence of Cuba.
3. Jamaica 
Another very familiar postcard is the one with cabins on the water. Yes, that too can be found in the Caribbean islands, specifically in Jamaica. It is here where you can book a stay in a cabin over the water—a cabin where you can touch the warm sea while you are lying in your bed. And a cabin from which you will have the most mesmerizing views of the sunrise and the sunset.
These cabins are a part of many resorts. Still, you do not need to worry about your privacy—you and your partner will have your own little piece of heaven without anyone interrupting you. The only time you will be interrupted is when waiters come to bring your romantic dinner, flowers, and candles.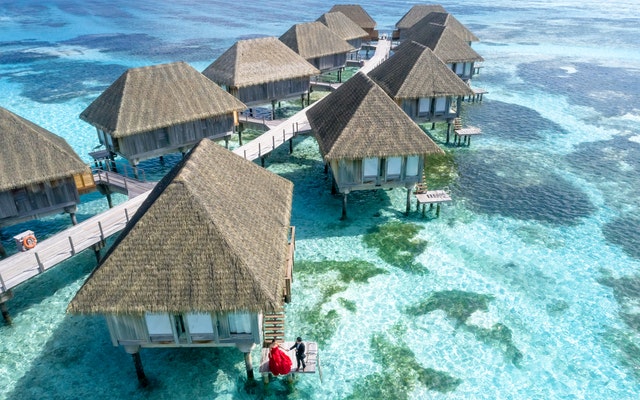 4. Guadeloupe 
Guadeloupe has only recently become one of the best Caribbean islands for couples. Do not get us wrong—this island (that is, this group of 5 islands) has always been mesmerizing. However, it was little-known among tourists. Nowadays, it is a hotspot for all people looking for luxury experiences, romantic getaways, and vacations that will not end up costing an arm and a leg.
Yes, believe it or not, Guadeloupe is still very affordable. Things like accommodation, restaurants, local shopping, transportation, and similar—all come relatively cheap. This is what makes this island so desired even by ex-pats. So, if you visit this island, if you fall in love with it, and if you decide to stay for good—moving to the Caribbean, that is, moving to Guadeloupe can be easily arranged! There are countless options for properties that are reasonably priced and will afford you a lifetime of amazing views and fun in the sun.
5. One of the Best Caribbean Islands—Tobago 
Not a lot of people know about Tobago. They find out about its existence only after they visit its sister island, Trinidad. Maybe that is a good thing—secluded and uncrowned islands are a perfect getaway for couples. But, this island is not your typical resort. Tobago is still wild! It is full of lush beaches, tropical forests, hills, and mountains. That is, Tobago is meant for adventure and adrenaline rushes and not for luxury and expensive hotels. However, if you ask us, lush vegetation is also what makes a certain place luxurious.
6. The Bahamas 
We just have to mention another postcard – the one with swimming pigs! No, that was is photoshopped—that is something you can experience in the Bahamas. But, of course, there is so much more to the Bahamas than taking a swim with cute pigs. For instance, here is where you can experience walking on the softest and the whitest sand in the world. And, it is where you can swim in the warmest and cleanest waters in the world. So, let us ask you—is there a better reason for visiting the Bahamas? Probably not! This is one of those best Caribbean islands for couples that you should definitely not miss out on.
7. St. Barths 
We can't finish our story of the best Caribbean islands for couples without mentioning the famous island of St. Barths. Even though this island is tiny, it is full of amazing resorts. However, just like St. Lucia, vacationing at St. Barths will also come with a hefty price tag—there is a reason why this small piece of land is called the land for the rich. Here is where all those most luxurious resorts and hotels can be found. And, let us not forget about golf courses, tennis courts, private trails., etc. You can find all of that and more in St. Barths. So if you and your loved one want to experience luxury, and if you want to see how rich and famous tend to vacation, consider booking your trip to St. Barths.
Follow us on Facebook, Instagram & Twitter
Get your Caribbean info fix at CoolestCarib.com
Photos Credit:
https://www.pexels.com/photo/nature-beach-vacation-sand-9470484/
https://www.pexels.com/photo/cold-snow-nature-beach-9394650/
https://www.pexels.com/photo/aerial-photography-of-bungalows-1287460/
https://www.pexels.com/photo/white-and-gray-bird-on-the-bag-of-brown-and-black-pig-swimming-on-the-beach-during-daytime-66258/