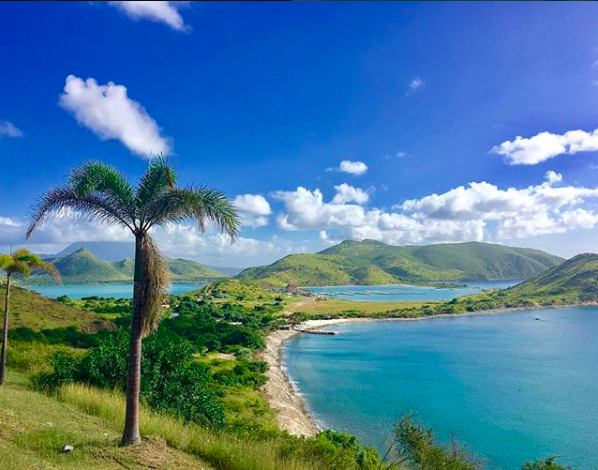 Photo taken on the way to Cockleshell Beach, St. Kitts, at the Turtle Bay area with a view of Nevis in the background. 
ST. KITTS.  Ever thought what would comprise a true island of your dreams? For argument's sake let's say it is St. Kitts, because it should be the island of your dreams.
First off, there are more than enough beaches, coconut cocktails, hammocks and palm trees to fill in the picture of your dream island. But there is so much more to this piece of paradise.
It's an island that has set aside more than a quarter of its land as a National Park, with growing rainforests rather than shrinking ones.
What's more, it's home to the UNESCO World Heritage Site Brimstone Hill Fortress, a centuries-old saman tree and a sleeping volcano that you can climb to the edge of and/or then down to its steaming crater.
Don't forget to go snorkeling or diving over its reefs covered by beds of coral, flourishing with fish of many type and color.
Oh, and doing watersports along it's golden beaches or just lounging in the sun are obligatory, of course.
Kittitian History
Centuries ago, the Carib Indians who inhabited the beautiful island of St. Kitts named their home Liamuiga, which means "fertile land" and called Nevis, the neighboring island, Oualie, or "land of beautiful waters."
Columbus came to these islands in 1493 but never landed. There is speculation that is was he who named the islands St. Christopher (nickname St. Kitts) and Nevis (because the cloud-capped dormant volcano reminded him of snow and the Spanish word for snow is "nieve").
The island was originally inhabited by Carib Indians, who were wiped out by French and British settlers at, what is now called, Bloody Point. Once the English and French had St. Kitts to themselves, they established sugar and tobacco plantations, fought each other for control of the island and brought in African people to works as slaves. And so the seeds of St. Kitts' rich culture were sewn, influenced by people from Africa, Europe and the Caribbean itself.
About St. Kitts and Nevis
Capital City: Basseterre – St. Kitts; Charlestown – Nevis.
Language: English, but filled with regional idioms.
Size: St. Kitts: 69 square miles, Nevis: 36 square miles.
Population: +- 50 000 with about 80% in St. Kitts.
Topography: Volcanic, with mountainous interior regions and gentle, rolling coastal plains. Highest points are mount Liamuiga at 3792 feet in St. Kitts and Nevis Peak at 3232 feet.
Climate: Pretty much perfect year-round.
Currency: Eastern Caribbean (EC) dollar. US dollars are accepted just about everywhere on the islands while other currencies van be changed for EC dollars at any bank.
Business hours: Banks are open Monday to Thursday from 8am to 2pm and on Fridays they are open until 4pm. Other business places are normally open from Monday to Friday from 8am to 4pm and 8am to 1pm on Saturdays.
Dress: Mostly casual but clothing that is too revealing isn't appropriate in their towns and villages. Going topless on the beaches – a no-no.
Getting around: Rental cars are readily available as well as taxis.
Water: safe to drink.
Fun fact: The daughter of Canadian-Portuguese singer, Nelly Furtado, was born in Nevis and named after the island.
Some Personal St. Kitts Experiences
This is one of the neatest islands we have seen in the Caribbean or actually anywhere in the world. I mean, when you drive around the island you see grass neatly cut all along its roads – which takes a lot of sweat and effort to pull off. Kudos to the Kittitian municipality!  And driving around the island takes about 3 hours if you stop for coffee, take a stroll up to the fort and museum at Brimstone Hill and at a few beaches for some photo-ops and a swim.
You can be 'stylin' the drive by renting a SuperBuggy from Leroy, like we did. Just make sure you have a driver's license and get a permit on the island, plus someone who can drive stick gears. These buggies are something else with some nice torque and good looks. We got a lot of comments and waves driving around in these.

Or you can book a fun tour to Reggae Beach through Liz Perreira Tours. She is very friendly and meets you at the pier to take you to an open-air taxi that stops at some great viewpoints for photo's and vendor's goods. Lots of fun to be had at Reggae Beach where there is a restaurant, bar, watersports like SUP, kiteboarding, fly boarding, jet skiing, kayaking. And, of course, you don't have to rent the ocean for a lovely swim in clear, cool water.
All in all, fun and kindhearted people live here and the streets are clean and neat. St. Kitts & Nevis is a Caribbean destination like no other. No wonder this island is called the "Jewel of the Caribbean".
For Super Buggy rentals or tours: PereiraTours.com lizpereiratours@yahoo.com