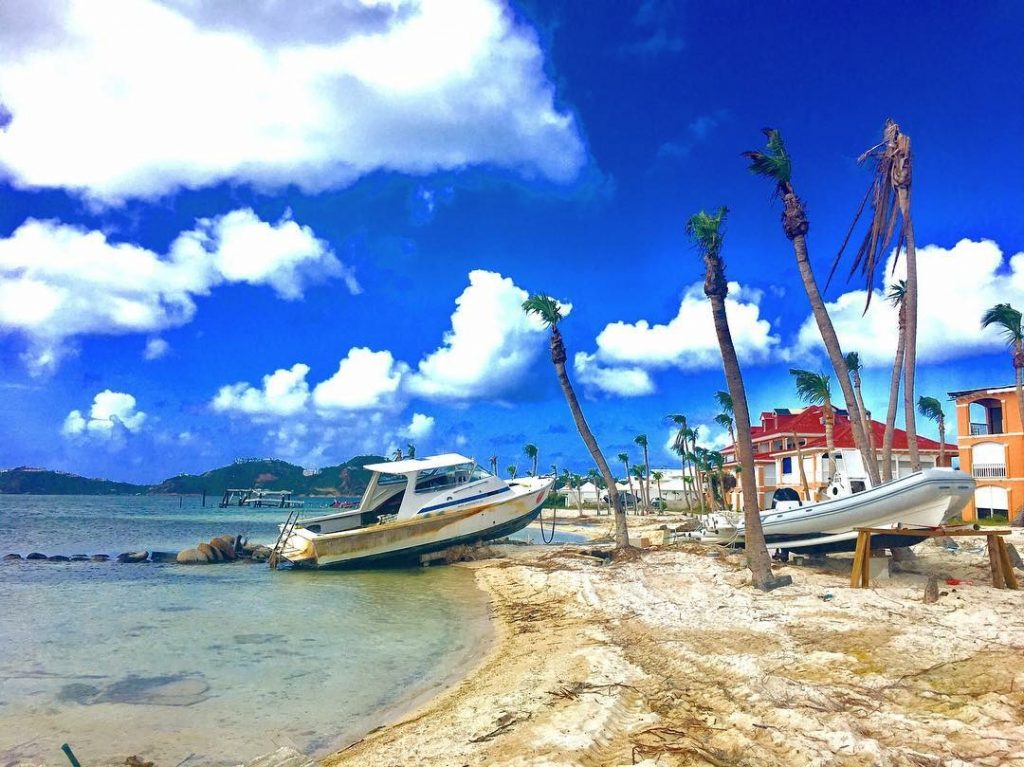 ST. MARTIN/MAARTEN, Phillipsburg. Things are looking on the up and up for the hurricane-devastated island. Three months since the island was hit by Irma and Maria cruise ships are back. This is great news for affected businesses on the island, especially those connected to tourism.
We walked and drove around the island today and here is what we saw:
Orient Beach – a famous beach on the French side that had many Ibiza-style restaurants, a nude beach and various water sport huts is now swept clean of all except a few palm trees, sand and seaweed. No facilities anymore. Hence, since the French side was hit very hard, a kind of 'copy' of what was once Orient Beach is now being set up in Simpson Bay on the Dutch side of the island.
Palm Island – this little islet in the middle of a small lagoon in Phillipsburg is now a stash for debris. From old cars to washing machines and couches can be found here. Since it is an island, moving debris left by the hurricane is a difficult issue – where do you take all the remnants of what once was a casino's outside display or the wall of a business or a house's roof? Various areas where huge mounds of such left-overs that Irma and Maria spewed out are to be seen around the island.
Phillipsburg – is cleaned up nicely. But if you've been to this town many times over the years like us, you know what it looked like in boom time before the hurricanes and you miss tree covered lanes next to the beach lined by lovely bistros and shops. Now you might find some of those same shops – not all of them survived – but not the beautiful scenery that came with it before. But in general, most of the high-end shops are operational again. Very good to see that. Holland House Hotel on the beach looks practically untouched.
Nettle Bay – we connected with B52 Kitesurfing at the severely damaged, but still standing Flamboyant Resort. Pierre was back in business teaching people to kite surf on boxing day. He had a smile on his face because people are slowly coming back to the island. He also seized an opportunity to create a new and more efficient location for his business. He was able to build a neat shack that hosts storage for his equipment and a small bar and snack venue for his clients. We salute this small business owner who looks at the bright side of all these big events. He sees it as a chance to start anew and work at something bigger and better – kudos to you, Pierre!
Simpson Bay – We met with Cyndi and Anil of Sax Car Rental next to the international airport. They have an amazing story of rebuilding their business after their offices were practically swept away by winds stronger than a thousand giants. In fact, some buildings looked like their roofs were trampled on by giants' feet. Cyndi mentioned how surreal it was to watch the hurricanes unfold from their house on a hilltop. Looking down on Simpson Bay they could see cars and roofs and debris flying and swirling as if a wind soup was being concocted by an evil witch called Irma. Maria hit a certain part of the island that they didn't see much of at the time of the hurricane, but that had more water in it. "…and a watery hurricane is incredibly strong in terms of devastation", she said.
All in all it was great to be back on this cool 😎  island which holds unforgettable memories for us. The people have gone through serious hardship and hard life lessons but found new opportunities to rebuild their lives on. Soon this island will be back to its former glory thanks to such wonderful people. Most of all, what attracts most to St. Martin/Maarten is its glorious beaches and people. They are all still there, just the trimmings need some time and some TLC.
Car Rental: SaxCarRental.com. Kitesurf Lessons: B52-Kiteschool.com