Grenada Chocolate Fest: 11 – 19 May, 2018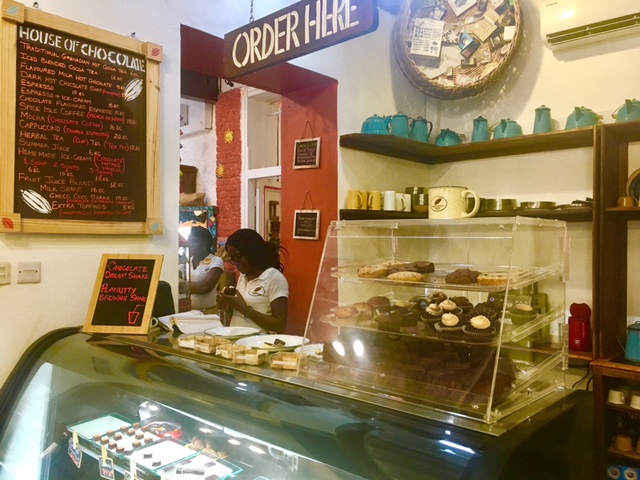 Pic of Chocolateria inside Chocolate Museum above.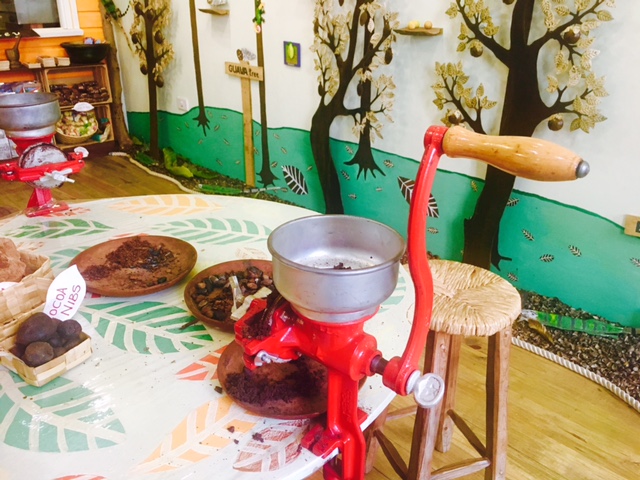 Pic of cocoa bean mill inside Chocolate Museum.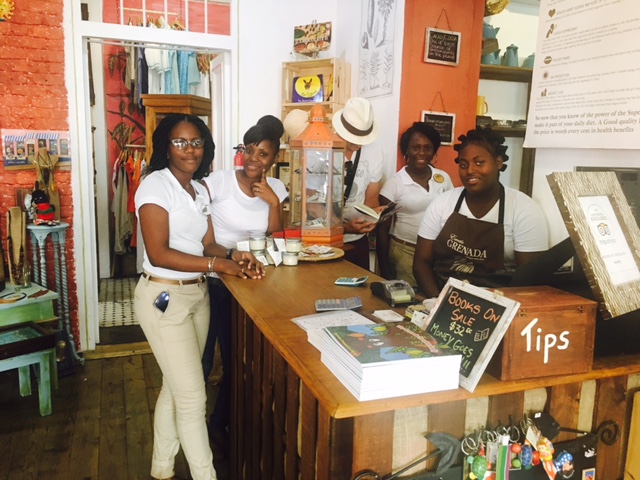 You'll find (left to right) friendly staff at The Chocolate Museum – Kendra, Maria, Rina and Kay.
Have a passion for everything chocolate? The Grenada Chocolate Fest is a delectable event that celebrates the island's delicious organic and ethically produced cocoa and chocolate. It is truly something to behold and experience for yourself. People sing, do the "cocoa dance" through the streets and douse themselves in liquid chocolate to celebrate this integral part of the island's heritage.
In Grenada, the chocolate artisans craft famous ethical "tree to bar" products. During the festival you can "take a journey through the island's rich history and visit cocoa farms nestled in its lush Caribbean rainforest… dance the cocoa or be a cocoa farmer for a day. Jam by the turquoise sea at sunset, and run through a cocoa forest! And when you are ready to relax and unwind, indulge in some authentic chocolate-inspired cuisine and luxuriate in cocoa-infused island life!" (http://grenadachocolatefest.com)
What's more, because the chocolate produce on the island is so pure, central to their local history and world famous, there is even a Chocolate Museum in St. George, the biggest town in Grenada. They display a brief history of the island in terms of cocoa produce here and you can have a shot or shake of chocolate or buy cocoa butter or chocolate lava cake, all things chocolate. They also focus on the health benefits of pure, organic chocolate here. Did you know how good it is for you? Here are some benefits they listed at the museum:
Protection from Disease-Causing Free Radicals.
Potential Cancer Prevention.
Improved Heart Health.
Good for Overall Cholesterol Profile.
Better Cognitive Function.
Blood Pressure and Blood Sugar Aid.
Antioxidant-Rich Superfood.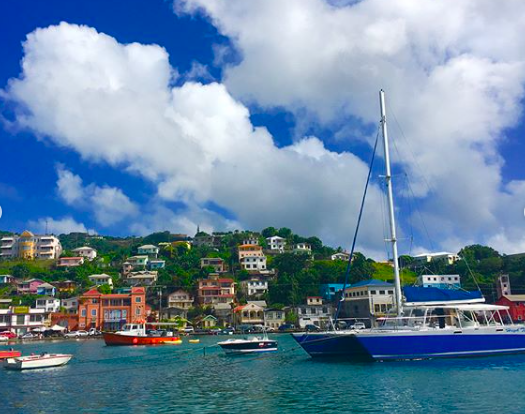 Photo of downtown St. George, Grenada from coolestcarib.com
So! Have some chocolate right now. And remember, it needs to be dark chocolate, preferably 70% or more cacao and sorry, no sugar, in order for it to have these health benefits . Without sugar it truly becomes an acquired taste.  A suggestion is to have it with stevia or honey if you don't like the bitter taste.
Best in chocolate to you and hope to see you in Grenada at the chocolate fest!
More pics taken this week  in St. George, Grenada click here or follow us on Instagram.com/coolestcarib