After hurricanes Irma and Maria tore through the Caribbean in 2017, devastating dozens of islands – including billionaire Richard Branson's private isle, Necker Island – Branson called for a "Caribbean Marshall Plan."
He wanted world powers and global financial institutions to unite to protect the Caribbean against the effects of climate change.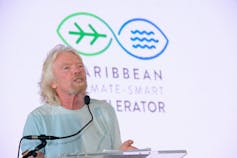 That hasn't happened. So Branson and his government partners from 27 Caribbean countries hope that his celebrity, connections and billions will prod local politicians and the financial community to act.
In August 2018, at a star-studded event at the University of the West Indies in Mona, Jamaica, Branson helped to launch the Caribbean Climate-Smart Accelerator, a US$1 billion effort to kickstart a green energy revolution in the region.