Since our blog titled, "Elon Musk Willing to Power Puerto Rico" of 6 October, a few hundred Powerwall battery packs for solar power energy arrived in Puerto Rico.
According to *Frederic Lambert of Electrek.co, "The new shipment arrived not long after Musk spoke with Puerto Rico Governor Ricardo Rossello last week to talk about ways for Tesla Energy to help rebuild the power grid destroyed by the two hurricanes that recently hit the Caribbean."
That's not all. Elon Musk is now putting extra effort into bringing power back to Puerto Rico AND other affected areas by unveiling his new Tesla Semi truck earlier than planned: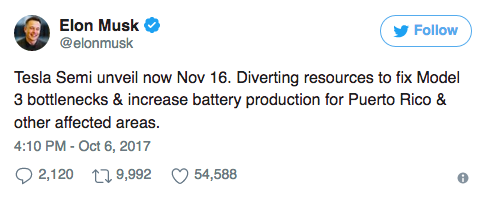 Tesla, the automaker, is changing the planned revealing date of its electric truck, the Tesla Semi, from October 26 to *November 16 (according to Electrek.co) as it focuses on Model 3 production and aiding "power-less" Puerto Rico.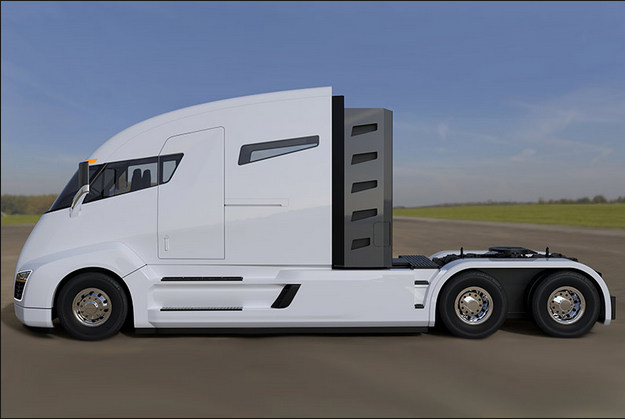 Tesla Semi, Model 3 truck image from trucks.com
Currently, less than 20% of the island has power and some areas may experience months without electricity. That is why Tesla plans to first focus on helping hospitals and medical centers to get stable power.
Puerto Rico and Tesla seem to be committed to work together beyond short-term solutions and rebuild the power system to be more sustainable with solar power and energy storage.
* Tesla Starts Shipping Powerpacks to Puerto Rico by Frederic Lambert of Electrek.co click here
* Tesla Pushes Electric Truck Unveiling to November 16… by Fred Lambert of Electrek.co click here