By Lizpiano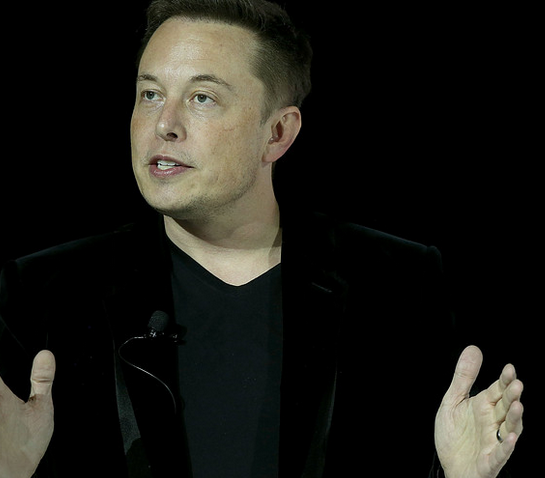 Picture of Elon Musk by Getty Images.
That is, if given the green light to go ahead. Elon Musk has helped many smaller islands, like Ta'u Island in Samoa, with his solar power devices and tweeted this yesterday:
"The Tesla team has done this for many smaller islands around the world, but there is no scalability limit, so it can be done for Puerto Rico too. Such a decision would be in the hands of the PR govt, PUC, any commercial stakeholders and, most importantly, the people of PR."
@elonmusk
Above is a video about the SolarCity created with Tesla's Microgrid Solar Power in Samoa.
In response to this, Puerto Rico Governor Ricky Rossello showed interest, tweeting "Let's talk" to Musk, saying "PR could be that flagship project."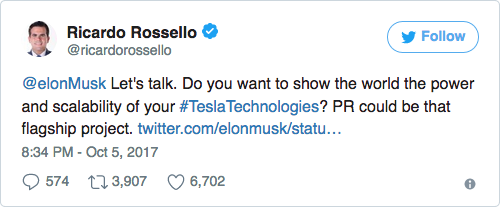 Musk has already done his part for Puerto Rico. Hurricane Maria left the island's power grid in tatters, so Tesla reportedly sent hundreds of Powerwalls — battery systems designed to store energy — along with employees to install them in an effort to restore power.
Powerwall batteries can be paired with solar panels to help restore the grid. According to Fortune.com "the Powerwall, which was first introduced in April 2015, is a battery designed for homes that store the energy generated by solar panels."
Musk also donated $250,000 of his own money to the relief effort.
In the meantime, President Donald Trump said on Fox News in an interview with Geraldo Rivera, "the island's debt will have to be wiped out." Puerto Rico owes over $70 billion to creditors while the total storm cost is between $45 and 90 billion dollars.