You're stuck in your office, surfing the web for just about any getaway to sunny shores and you come across this story about pigs living it up on their own island in the Bahamas. WTF!? – as in Modern Family's Phil's acronym – Why The Face? Well, stop making a face and start reading this. For if pigs can swim in the Bahamas, so can you!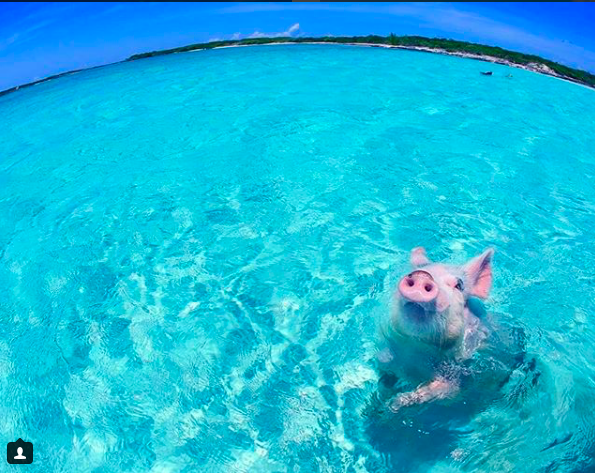 Picture from Instagram.com/theswimmingpigs
You can even visit and swim with them, these porkers. There are about 20 pigs and piglets on Pig Island, also known as Major Cay, Big Major Cay or just Pig Beach. The island is uninhabited and located in an area that comprises more than 300 islands in the Bahamas, called Exuma. They are not the only animals there, there are some goats and stray cats to be seen too.
How did they get there and how do they survive, you ask? For one thing, in order for any living being to survive, they need water. Lucky for these porkies, there are three fresh water springs on the island. What about food then? Currently they are fed by locals and tourists – a big attraction in the Bahamas.
But how these hogs got to the island is somewhat of an urban legend. There are various theories and speculations, one being that the boars were brought to the island as part of a business venture to create a tourist attraction. Another, and the most "famous" one, is that sailors brought some sows to the island with the intention to eat them at a later stage. But they never returned. Then there is the story that the swine survived a shipwreck and swam to the island to save themselves and survived on food dumped from passing ships. A last theory is that the pigs escaped from a nearby islet – and decided to rule their own island, named after themselves.
If you want to stay near Big Major Cay where the hogs are cohabitants, according to Angie Away, "your best option is itty-bitty Staniel Cay, which offers a sizable marina, several small hotels (EMBRACE Resort is my favorite) and an airstrip. From there, you can rent a small boat or hire a local guide to whisk you over to Pig Beach. From Staniel Cay Yacht Club, it's only about 10 minutes to the pigs."
If you do decide to visit Pig Beach, be respectful, remember these are wild-ish animals you'll encounter and that its their island, for goodness sake! Reminds me of Animal Farm – "where all animals are equal, some are just more equal than others…"
Pigs are very clever and cute but their bite can be very serious – when you try to take selfies they might think your camera is food, or even your face! (to quote an observation by Angie Away).
So, take care and be safe on Pig Beach – it will certainly be a very different getaway story to tell when you get back home.
Continue reading "Discover Pig Beach, BAHAMAS – Where Pigs Rule (and Swim)"